Strategy Assessments
Assessments, also called Strategic Discovery, are the first step in a strategic planning process. They help clients prepare for significant decisions and organizational change. They answer questions such:
What do our customers most love and value about what we do?
How clear is our current strategy to employees and partners?
How deeply are employees and partners engaged in our work or mission?
What are the differing perspectives or world-views in our organization that need to be reconciled?
What do employees and partners need to contribute to their best?
What is working well? What can we leverage?
What opportunities exist to improve performance by doing things differently?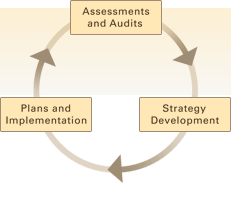 The assessment can include interviews with key employees, employee surveys, expert review of organizational plans and cultural artifacts, and focus groups and survey research. An assessment can be used in the Discovery phase of a larger strategic planning and engagement process. It can also be performed on a stand-alone basis.