Strategy Management, Implementation
For almost two decades, we've been the "go to" people for our clients' big challenges. We recognize that implementation isn't a checklist – it's an evolving process of creating change in a dynamic environment.

Strategic plan implementation and strategy management involve change; change in what an organization does and how its members think and behave. We weave effective change management tools and approaches throughout our strategic planning and facilitation approaches to make the implementation phase as seamless as possible.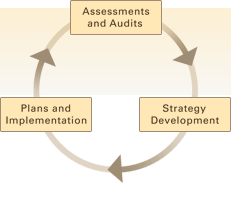 We facilitate action planning processes that assign metrics for success and engage accountability. We provide action support coaching. Through our associate network we also offer project management services and strategic program management office solutions.