Pat Hughes, Associate
For the past 20 years Patricia (Pat) Hughes has helped build leadership capacity for individuals, organizations and community groups.

Pat provides customized leadership program design, strategic planning, executive coaching, sustainability project management and design, and retreat and event facilitation. She has passion for helping clients integrate values into their personal lives and work. Her work has earned her recognition as a highly skilled, graceful and sought-after facilitator.

Pat wrote the book Gracious Space: A Practical Guide for Working Better Together, which was published in 2004 by the Center for Ethical Leadership, where she worked for nine years. Prior to that her groundbreaking work at the Leadership Institute was recognized by the International Leadership Association.

A former journalist, she has published numerous articles on themes of leadership, nature and adventure travel. She has an M.A. in Whole Systems Design from Seattle's Antioch University, a certificate in Organization Systems Renewal and a B.A. in Economics and International Relations from the University of New Hampshire.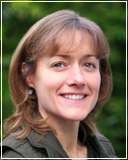 Additional Information